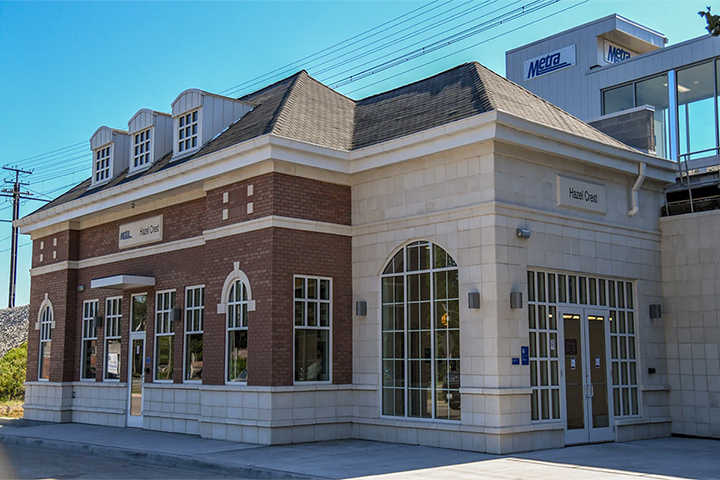 About Hazel Crest Station Project
A dedication ceremony was held by Metra officials along with the village of Hazel Crest to celebrate the newly renovated Hazel Crest Station facility on the Metra Electric Line. 
"The new station offers our passengers a much more welcoming gateway to the Hazel Crest community with facilities that will better serve our existing riders and attract new ones," said Metra CEO and Executive Director Jim Derwinski. 
With the completion of the $3.5-million project, funded through the State of Illinois Bond Program, the station is now fully compliant with the accessibility requirements of the Americans with Disabilities Act (ADA). The facility features a new street-level depot complete with vendor space, a waiting area and restrooms. The project also included rehabilitation of the station's north and south head houses as well as the stairways leading to the platform. The platform warming shelters were also renewed.
"It has been a long journey in completing the Hazel Crest Metra Station, so we are happy to be standing here today upon completion of this beautiful facility," said Village President Vernard L. Alsberry, Jr. "This is such a bright spot in a year of the COVID-19 pandemic and other events that have been difficult for the Village of Hazel Crest and the Southland. I would like to thank the Village of Hazel Crest Board of Trustees and Clerks, both in the past and the present, the Metra Board and the construction teams for making this day possible. I would also like to thank the riders for being patient with all of us." 
Located 22.3 miles from Chicago's Millennium Station, the Hazel Crest Station serves approximately 261 daily customers, according to Metra. 
The station project was designed by Legat Architects, Inc., of Chicago and construction work was performed by Bowa Group, Inc., of Chicago. For the project, the Bowa Group Inc., committed to ensuring that 20 percent of the contracted work was performed by disadvantaged business enterprise firms.