Countryside Community Church – Omaha, NE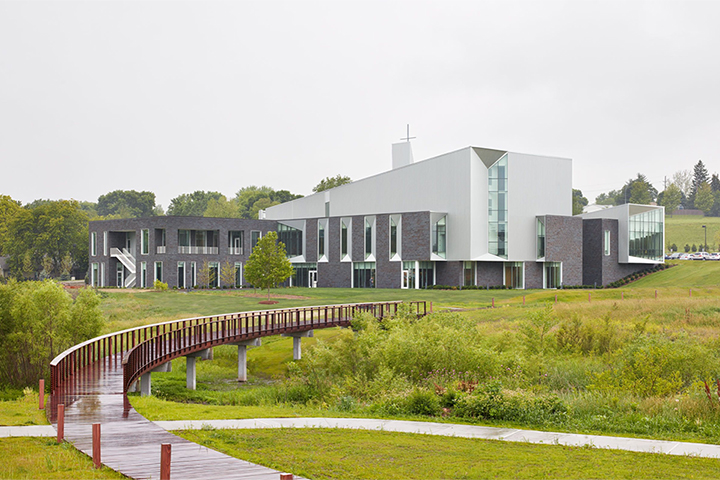 Project: Countryside Community Church
Location: Omaha, NE
Client: HGA Design
Specifications: 8,000 square feet
Project Overview:
Connecting Faith And Community – The Tri-Faith Initiative is made up of three Abrahamic faith groups who have chosen to establish a faith-based campus together. The three communities are of the Jewish, Christian, and Islamic faiths: Temple Israel, Countryside Community Church, and The American Muslim Institute. The 32-acre, sustainable Tri-Faith Campus will be among the first destinations in the world uniting Christian, Jewish, and Muslim faiths on a collective campus.
HGA led a robust visioning and conceptual planning process that built consensus and enthusiasm for the relocation of Countryside Community Church to the Tri-Faith Campus. By bringing together large groups of stakeholders with differing needs and aspirations for the space we determined what each ministry needed to serve its' mission.
The design team developed the layout and massing of the new church in a way that responds to the congregation's worship practice. Beyond the worship spaces, the new building expands existing social, educational, and outreach programming including a coffee shop, banquet hall, classrooms, and a community food shelf. Architecturally, the new facility is defined by simple rectangular volumes, clad in dark terracotta shingles, which have a hand crafted and individually unique profile and emphasis a horizontal and grounded-feel. This contrasts with the more sacred elements of the sanctuary, chapel, and bell tower, which are clad in metal panels and emphasize vertical lines, thinness, and lightness. On the interior, the sacred spaces are distinguished by warm wood finishes that provide acoustics for various types of events.
Countryside Community Church – Photo Gallery