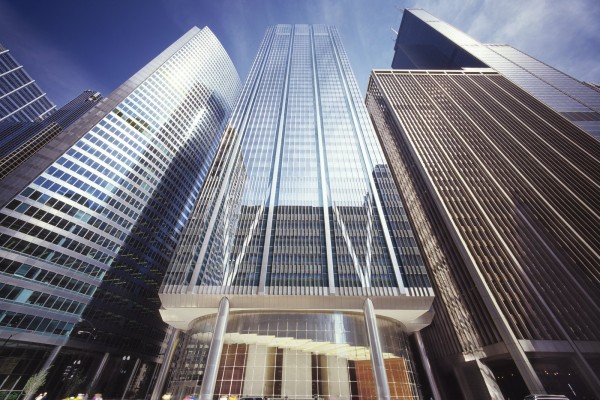 Project: 111 South Wacker Drive
Location: Chicago, IL
Client: Goettsch Partners
Specifications: 1,200,000 sq ft
Project Overview:
The 51-story, blue glass structure is a striking example of creative problem solving.  When faced with complicated site and structural challenges, architect Jim Goettsch and his team developed a smart and creative solution. The result at 111 South Wacker is an award-winning Gold LEED (Leadership in Energy & Environmental Design) certified building.
This building was awarded an Energy Star label in 2007 for its operating efficiency. Located in the Chicago West Loop at the intersection of Wacker Drive and Monroe Street. The structure soars 682 feet above Wacker Drive. Goettsch Partners (formerly Lohan Caprille Goettsch Architects) of Chicago, designed the building, bringing together the same award-winning design team from the recently completed UBS Tower at One North Wacker. 111 South Wacker offers tenants ideal proximity to public transportation hubs, expressways, financial exchanges, major banks, courthouses and many major corporations. This 1 million square foot, 51-story structure provides the latest advances in business technologies. The mix of these latest technologies, combined with large, highly efficient floor plates (40′ lease spans, 50′ core-to-glass dimensions on approximately 27,500 rentable square foot floors) and the convenient location, equips tenants with a productive and attractive environment for business operations.
The lobby's stepped ceiling and marble and granite floors, laid in radial patterns, extend the spiral motif and it doesn't end there. The spiral pattern continues onto the pavement outside the building, and non-reflective glass creates an almost invisible barrier between its interior and exterior space. As you walk through the lobby, it feels as though the building is radiating both upward and outward. An all plenum floor in the lobby provides heating for the winter. A waffle cell system underneath the floor heats it and sends warm air up the window to heat the lobby. The ventilation system consists of two air handling units on floors 28 and 29 that supply medium pressure duct.
Some skyscrapers inspire you to look up to their tops. 111 South Wacker draws you down to its marvel of a lobby.
111 South Wacker Drive – Photo Gallery