Rush University Medical Center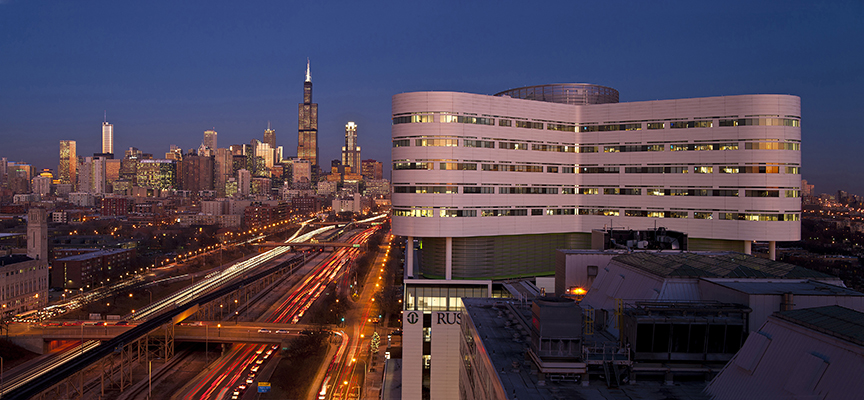 Project: Rush University Medical Center
Location: Chicago, IL
Client: Perkins+Will
Specifications: 830,000 sq ft 14-story building.
Project Overview:
Rush's New Hospital is the Largest New Construction Health Care Facility in the World to Receive LEED Gold Certification
One of Chicago's most distinctive new buildings has now been certified as among the greenest.
 Rush University Medical Center's innovative new hospital building, the Tower, which opened in January, has earned LEED Gold certification from the U.S. Green Building Council and verified by the Green Building Certification Institute. It is the largest new construction healthcare project in the world to be LEED Gold certified.
The innovations developed between the Office of Transformation and the Building Team included, operating-room quality air throughout all patient care areas, and even higher quality air circulation in surgical suites. At a ceremony for Rush's new Tower in December 2011, Dr. Larry Goodman, CEO of Rush, said, "This was a dedicated team effort by our board, staff, and management to create a 10-year plan to address our needs while improving clinical care."
Rush earned high marks for green design, construction and operation. Rush achieved LEED Gold certification for energy use, lighting, water and material use as well as incorporating a variety of other sustainable strategies. Hundreds of energy savings ideas have been incorporated into the planning, construction and design.
Below are some examples:
2012 Building Team Awards
Platinum Award
Buildings are a prime example of how human systems integrate with natural systems, The Rush project efficiently uses our natural resources and makes an immediate, positive impact on our planet, which will tremendously benefit future generations to come.
Rush University Medical Center – Photo Gallery