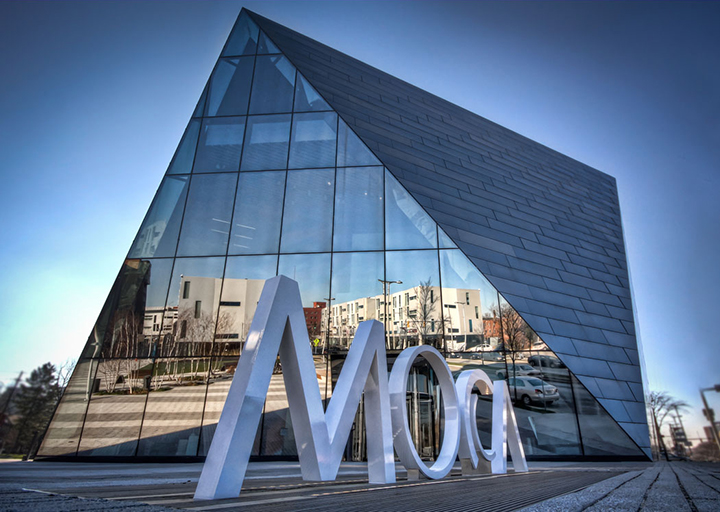 Project: MOCA Museum Cleveland
Location: Cleveland, OH
Client: Farshid Moussavi
Specifications: 34,000 sq ft
Project Overview:
The new Museum of Contemporary Art Cleveland, which opened in October, is another reason this Rust Belt city is on the culture map.
The dynamic structure was designed by Iranian-born Farshid Moussavi of London, formerly with Foreign Office Architects (FOA) and now principal of Farshid Moussavi Architecture (FMA). This is her first U.S. commission and her first museum.
The other things that will attract the art and architecture crowd are the facts that the $27.2 million, 34,000-square-foot, black stainless steel structure is Moussavi's first museum and also her first work in the United States.
But the biggest reason that Cleveland can now consider itself part of the culture circuit is that the new MOCA Cleveland is good: And when I say that, I mean both building and art.
Already, the museum's mere existence sends the message that Cleveland is intent on revitalizing itself after having been sapped by population loss, job declines and poverty. And the financial crisis of the past few years has hit the city hard, with a foreclosure rate that was among the highest in the country.
"I think it's the new Cleveland," Stewart Kohl, a MOCA board member and co-chair of the museum's capital campaign, told the Cleveland Plain Dealer. "MOCA will be a kind of draw that we really haven't had."
The irony is that this "new Cleveland" is being built with the old: MOCA Cleveland is actually the newest incarnation of a 44-year-old art center, initially called the New Gallery when it was founded by Marjorie Talalay and Nina Castelli Sundell, who were both connected to famed New York art dealer Leo Castelli. (Talalay, who had previously owned a gallery in New Haven, had done business with him, and Sundell was Castelli's daughter.) The Plain Dealer reports:
Upon entering the building, visitors find themselves in an atrium where they can see the dynamic shape and structure of the building as it rises. This space leads to MOCA's lobby and shop, and to a double-height multi-purpose room for public programs and events.
We want the building to be an experience in itself and to reflect the role of the museum. MOCA Cleveland isn't a grand museum with a historical collection; it's all about temporary exhibitions, which change constantly—so does contemporary art, and so should the architecture.
MOCA Museum Cleveland – Photo Gallery