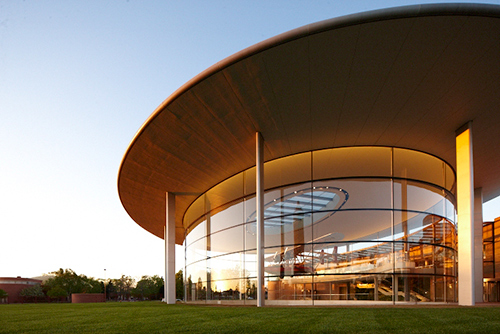 Project: SC Johnson's Museum
Location: Racine, WI
Client: Foster + Partners, Epstein
Specifications: 70,000 sq ft
Project Overview:
This unique project, a 70,000 sf facility on the historic, Frank Lloyd Wright-designed campus of SC Johnson Wax, includes exhibition space, a new employee dining facility, and additional employee amenities such as a fitness center, store, bank, and coffee shop. The exhibition area commemorates an expedition to Brazil made by Sam Johnson in 1998 and features the airplane he used, which is a replica of the plane H.F. Johnson used in the 1930s to research carnauba wax trees in Brazil. Cosentini coordinated the selection of devices/equipment for public areas, so that they blend seamlessly with the museum architecture. Fortaleza Hall (LEED Gold Certified) and the Community Building are linked by a glazed atrium and lift lobby, which connects via an undercroft to the matrix of tunnels that form the principal communications network through the campus.
SC Johnson's Fortaleza Hall in Racine, Wis. has earned a Leadership in Energy and Environmental Design (LEED) Gold Certification in New Construction from the U.S. Green Building Council. The company designed and built Fortaleza Hall, which opened in January 2010, to provide a greener and more inspirational environment for its employees, their families and the greater community.
Fortaleza Hall earned multiple credits in six categories in the certification process (Sustainable Sites, Water Efficiency, Energy and Atmosphere, Materials and Resources, Indoor Environmental Quality, and Innovation and Design). The building was awarded all five possible Innovation and Design credits. A unique floor system called AIRFLOOR™ – saves energy by turning the finished floor into a radiant source of heating or cooling; Building Automation System helps control temperatures wherever people are present.
Fortaleza Hall, which honors the late Sam Johnson, the fourth generation leader of the company and Chairman Emeritus, offers visitors a chance to learn more about the SC Johnson company through displays and memorabilia. It also serves as The Commons for SC Johnson employees and includes
While we're continuously working to green all our operations, Fortaleza Hall gave us the chance to design a sustainable structure from the ground up," said Semrau. "We're pleased that our SC Johnson family and visitors can enjoy this addition to our Racine, Wis. headquarters.
SC Johnson's Museum – Photo Gallery