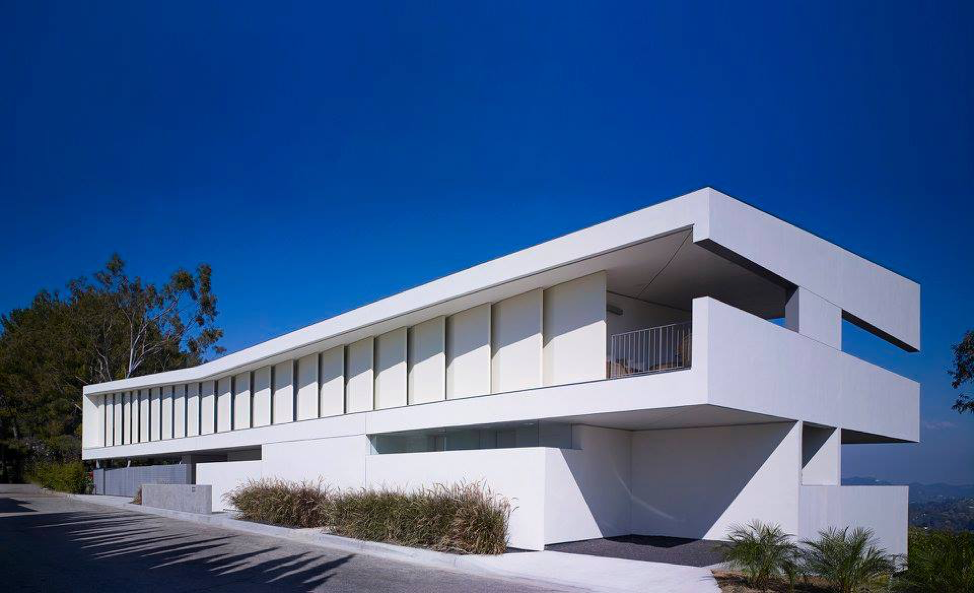 Project: Caverhill Home
Location: Beverly Hills, CA
Client: Studio Pali Fekete Architects
Specifications: 4,700 sq ft
Project Overview:
Perched on a ridge overlooking Beverly Hills canyons, the Caverhill residence's angled roofline echoes the descent of the hillside beyond its walls. The house maximizes use of its narrow pad by spanning across its long frontage and descending deep into the hillside to carve a 4,500 square foot house out of a lot that previously hosted a 1,750 square foot house, while maintaining a modest elevation from the street. The home replaced a smaller house on the difficult hillside lot, maximizing both the narrow footprint and the spectacular views of the Los Angeles basin. A hillside building ordinance and a desire to keep the previous structure's footprint made the project a challenge – the lot is more of a wedge shape than a parallelogram. As a result, the plan is a modified wedge, one end of the house almost twice as wide as the other.
The main entrance is on the second of three levels, where the living room flows openly into the kitchen and dining area. These communal spaces and the bedrooms on the upper level are punctuated on each end by over 1,000 square feet of generous covered terraces and balconies. Each cove is protected from the sun and wind but still open to views.
Simplicity was the goal of both the architect and the client. Steel framing allowed for a fully-open plan, free from interior walls or vertical supports obstructing the views. The result is a clean viewing angle of the exterior from almost any spot in the house. All of the house controls — heating, cooling, lighting, window shades, security and more — are contained within a control panel near the front door. Ductwork was eliminated by the use of an AIRFLOOR™ System, which heats or cools rooms through a series of dome-like structures beneath the micro-finished concrete floor surface.
Adding to the feeling of wide open spaces is the series of unpartitioned rooms that make up the interiors, and the broad glass windows that look out onto greater L.A.
Caverhill house is heaven on a hillside.
Caverhill Home – Photo Gallery