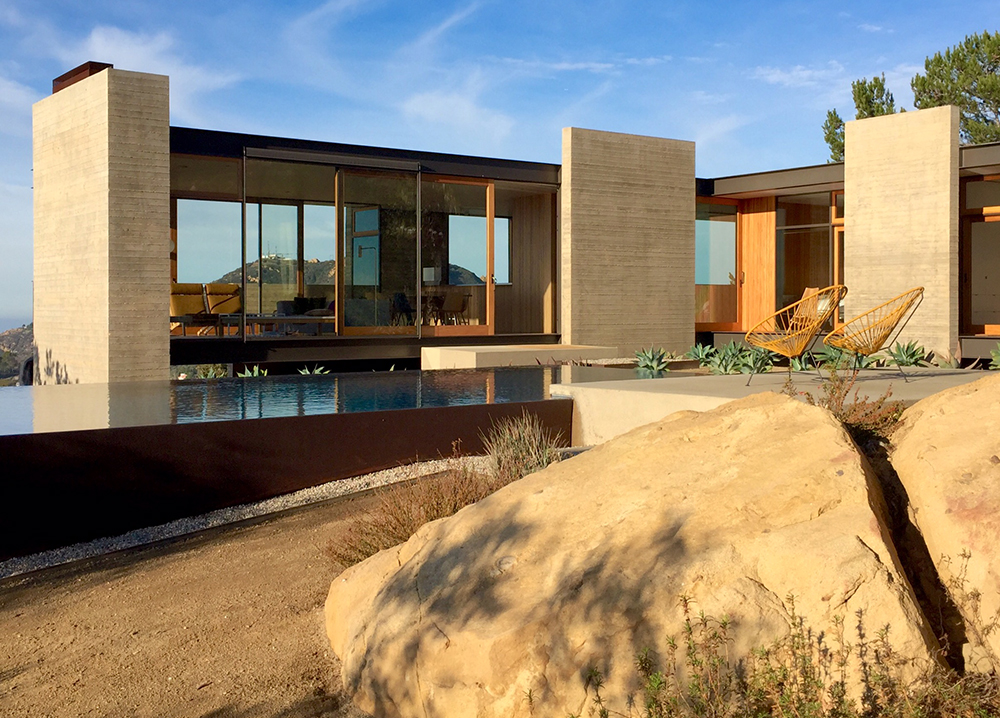 Project: Saddle Peak House
Location: Topanga, CA
Client: Sant Architects
Specifications: 2,583 sq ft
Project Overview:
With its organic, horizontal silhouette, raw concrete facade, and Bauhaus-leaning interiors, this midcentury nature retreat brings modernity to the mountains. Designed by California architect Michael Sant, the Saddle Peak House is a modernist confection made of glass, concrete, and wood nestled in the rugged Santa Monica Mountains.
The home is dominated by right angles—everything from the roofline to the rectangular pool underscores the geometric precision of its design. Inside, this motif continues with the contrasting vertically striped wood paneling and the horizontal striations of the concrete walls.
Built predominantly with iron beams, monolithic concrete slabs, wood, and glass, the house is a wonderful and earthy composition of texture and light. Expansive walls of glass infuse the interiors with light while framing stunning, panoramic views of the ocean, mountains, and nearby Catalina Island. The house explores several oppositional relationships – heavy vs. light, transparent vs. opaque, rooted vs. floating – that combine to create a harmonious sense of balance and encourage a profoundly intimate experience of nature.
On the upper level is the main living area, which overlooks the property's pool and gardens. Here, you'll find a smart, slide-away fireplace, a fully equipped kitchen, and a dining area. This part of the home also has oversized, slide-away doors that open to present different perspectives and angles of the property. Also on the upper level are two of the three bedrooms. The master bedroom is located on the level below.
Wood floors and walls are accented by pops of bright blue, red, purple, and yellow. Outfitting the interior with carefully selected furniture by Hans Wegner, Jasper Morrison, and Stefan Diez, Sant Architects has created a Southern Californian escape that offers seamless indoor-outdoor living, and that brings contemporary style out to nature.
Saddle Peak House is the most beautifully designed home I've stayed at through Airbnb. It's gorgeously set overlooking Malibu and the the beautiful mountains. The home frames the beautiful views perfectly and the indoor/outdoor spaces are elegantly integrated. The pictures convey the overall gorgeous design, but don't capture the craftsmanship and attention to detail. Virtually everything in this home was custom designed specifically for this home and it has to be seen to be fully experienced.
Saddle Peak House – Photo Gallery