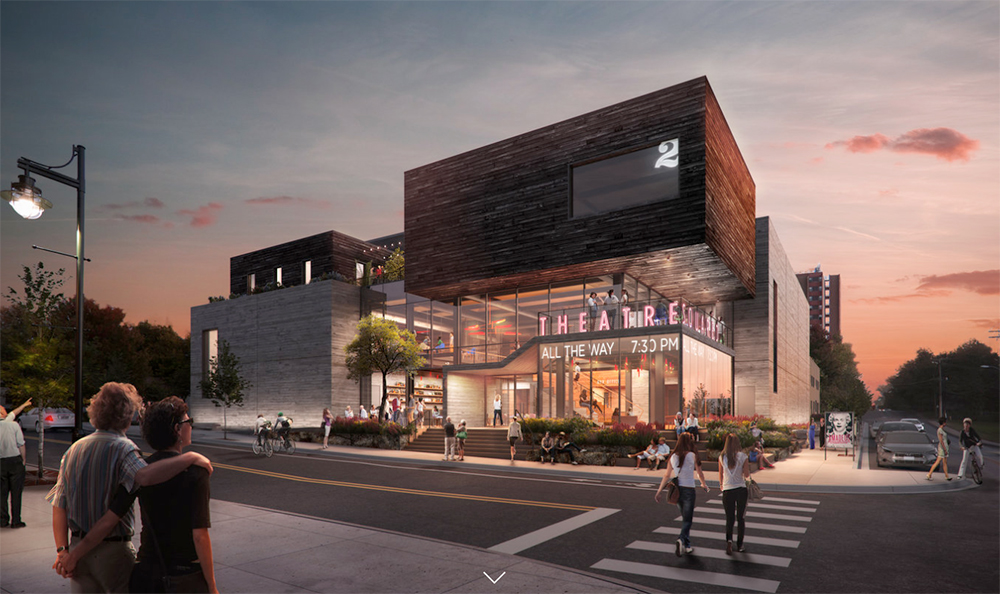 About TheatreSquared
TheatreSquared's locally produced and nationally acclaimed productions reach 45,000 patrons each year. The company is Northwest Arkansas's only year-round professional theatre, offering a unique audience experience in an intimate space at Walton Arts Center's Nadine Baum Studios. In 2011, TheatreSquared was recognized by the American Theatre Wing, founder of the Tony Awards, as one of the nation's ten most promising emerging theatres.
TheatreSquared's audience includes more than 18,000 students and their teachers. The theatre partners with teachers and schools from Northwest Arkansas to the Delta Region, working to give students across Arkansas access to live performances and leading arts-based learning tools.
A professional company, TheatreSquared employs trained artists from across the country to create its 230 annual performances and is contracted with Actors' Equity Association. The theatre is also Arkansas's home for professional playwrights, developing scripts through the Arkansas New Play Festival in Fayetteville and Bentonville and producing new works and world premieres each year.
Old Performance Space
Walton Arts Center's
Nadine Baum Studios
505 W. Spring St.
Fayetteville, AR 72701
New Performance Space
Corner of West Ave. and Spring St. in downtown Fayetteville — directly across from the theatre's current venue in a converted warehouse at Walton Arts Center's Nadine Baum Studios.
THE STAGE – INTIMATE AND IMMERSIVE
"In the beating heart of the building are brilliant performances, intimate and unmediated, celebrating the joys and struggles of what it means to be human…"
– Vision Statement
The process of creating a design for a new home actually began at the building's core. Through dozens of artist and audience conversations, Charcoalblue worked to identify the key qualities that make TheatreSquared's performances, in the words of one 10 year-old audience member, "exhilarating." The new designs would amplify the virtues of T2's current space, while adding perfect acoustics, unmatched sightlines, and the modern production tools of a state-of-the-art theatre.
In TheatreSquared's intimate new mainstage, the front row has moved even closer to the stage, while the back seating row is just one row deeper than in T2's current space. Audience members enter at a shared level with the performers. Two rows wrap around the top to create a new circle level with some of the best views in the house. The custom seats are self-rising, creating ample room for patrons to circulate. A third tier of seating can be activated for additional capacity as needed. And the walls of the audience seating section are clad in warm-hued, repurposed wood.
AIRFLOOR™ is an innovative alternative to HVAC system installation that eliminates ductwork and drop ceilings. It provides radiant and forced-air heating/cooling through a network of steel forms and registers imbedded in the concrete floor. https://www.airfloor.com/
INSPIRATION
New York-based
Marvel Architects
was selected from over 70 international applicants to design the theatre building. Marvel's portfolio includes a new Brooklyn Public Library, the national competition-winning entry for the new Constitution Gardens on the National Mall, a master plan for Playwrights Horizons, and, in collaboration with Charcoalblue, the beautiful new home for the storied New York theatre company, St. Ann's Warehouse (right).
To build a common design language, TheatreSquared staff traveled with the design team to more than 20 theatres in the U.S. and the U.K. At every stop, architect
Jonathan Marvel
made sketches and notes as references for the T2 concept design.